Sweetgum For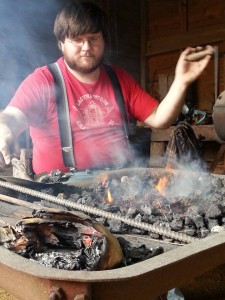 ge is a small, one man, blacksmith shop in which Jonathan Smith produces a variety of functional and decorative hand-forged ironwork.  Design inspiration is drawn from historic pieces and methods, adapted to fit modern needs.  The name of the shop was inspired by Longfellow's poem, "The Village Blacksmith".  The opening lines are:
Under a spreading chestnut-tree
The village smithy stands;
The smith, a mighty man is he,
With large and sinewy hands;
And the muscles of his brawny arms
Are strong as iron bands. 
Sadly, the chestnut is no more, however,  sweetgum trees are plentiful and one provided shade for an early incarnation of the forge.
If you'd like to see Jonathan in person you can see what markets and shows he'll be attending by clicking on "Markets" above. Click on 'Shop" to see what's for sale right now and click on "Contact" to join the mailing list and keep up with what's going on in the forge!